Latest
News
Sheikha Meera Hazza's Take on the Young Generation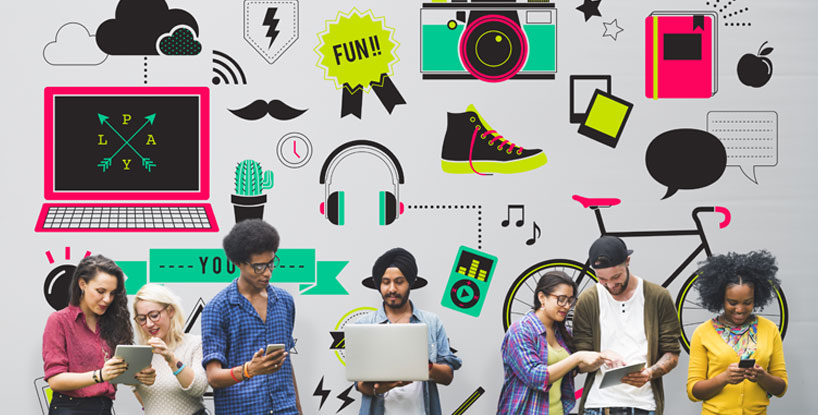 Building on our collaboration with the American University in Dubai (AUD), PeopleFirst's Managing Director had the privilege of working with Dr. Raj Kapoor, Professor of HRM at AUD to assess Sheikha Meera Hazza's HRM project. Sheikha Meera Hazza delivered a project on 'Job Design' however expanded her research to cover both the UAE and USA to understand and compare what future employees across both countries expect from an ideal job and how employers can attract and retain this new generation. A summary of Sheikha Meera Hazza's project is presented below:
Working Hours
"Young adults are more likely to choose jobs that offer flexible work options." Sheikha Meera Hazza explored various flexible working options such as flexible working hours and flexible working methods like telecommuting.
| | |
| --- | --- |
| UAE | USA |
| 71.64% prefer flexible working options | 64.74% prefer flexible working options |
| 35.82% prefer flexible working hours | 17.65% prefer flexible working hours |
| 4.88% prefer telecommuting over flexible hours | 5.58% prefer telecommuting over flexible hours |
Sheikha Meera Hazza's research found that respondents in UAE showed a higher preference for flexible working hours, while respondents from both countries had a very low preference for flexible working methods such as telecommuting.
Exploring this further, Sheikha Meera Hazza asked the respondents to describe themselves as either introverts or extroverts to see if this had any correlation to their preferences. 71% of the respondents described themselves as extroverts which may explain why telecommuting is not a preferred option for this generation. Further research suggests that telecommuting may inhibit creativity and teamwork.
Job Autonomy
"Millennials are motivated in an environment that grants them freedom and trust."

The results from the UAE showed a preference for working in organizations with an informal structure that enables autonomy and allows people the freedom to make decisions. On the other hand, the respondents in USA were more inclined towards working in organisations with a formal structure as they seem to prefer guidance and direction from their leaders. This is illustrated in the diagrams above. Sheikha Meera Hazza feels that this difference could be attributed to the entrepreneurial mindset of people in UAE which may influence the younger generation.
Job Responsibility and Accountability
The results below show that respondents in both UAE and USA would like to take responsibility and be accountable for their work.

Jobholder Expectations
The chart below illustrates what the young generation in the UAE and USA expect from their future jobs: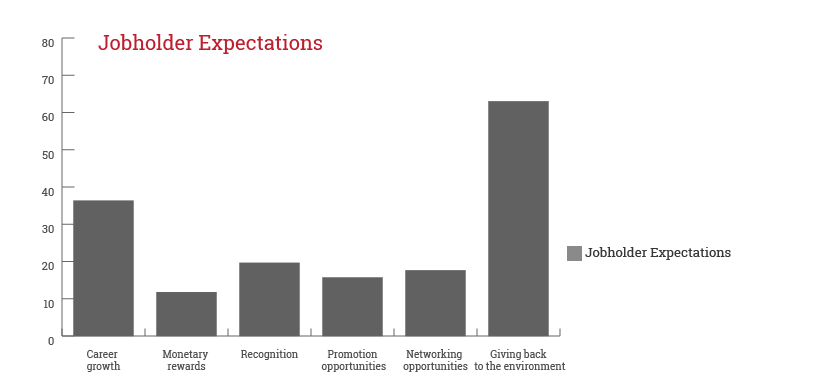 The most important concern for the young generation in the UAE and USA seems to be 'giving back to the environment' with 63% of the respondents choosing it as one of the most important aspects of their job. Second to that is the opportunity for career growth, while monetary rewards are the least important for most respondents. Based on the research Sheikha Meera Hazza recommends that employers focus on CSR activities and providing opportunities for career growth to the young employees in their organizations in order to attract and retain young talent.
Corporate Culture and Atmosphere
All respondents showed a clear preference for working in organisations that promote friendly work relationships. Sheikha Meera Hazza further explored the culture of a globally recognized employer 'Google' and found that Google has taken measures to ensure that employees get time and opportunities to socialize with one another in the workplace, which Google believes promotes creativity. Sheikha Meera Hazza recommends that a friendly and collaborative working environment should become the foundation of any company's work culture.
We found that Sheikha Meera Hazza's research was aligned with the research conducted by other students at AUD last year. Therefore, we recommend that employers take advantage of these findings to update their HR frameworks which in turn will help them to attract and retain young talent.