Our
People/ Roxana Hurdubei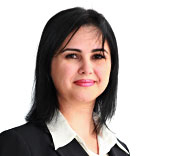 Roxana Hurdubei
HR Consultant
Roxana has over 17 years experience in Psychology and Human Resources across a variety of industries including HR consultancy, banking, media, hospitality, retail and education in both private and government sectors.
Partnering with the British Council in Romania, Roxana developed and conducted assessment centers for the selection of 246 public managers as part of a Young Professionals Scheme. In the context of Romania's pre-accession to the European Union this programme aimed to contribute to the modernization and strengthening of managerial capacity at all levels in central and local public administration and contributed to far-reaching reform.
Roxana holds two Master's degrees in the Socio-Psychology field and has attended more than 200 hours of training for counseling and psychological assessment. She is accredited to use over 25 psychological tests including MBTI.