Our
People/ Roschelle Poppen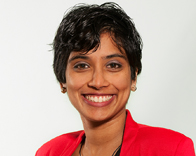 Roschelle Poppen
HR Consultant
Roschelle Poppen has over 8 years experience in Human Resources with national and multinational companies in India and UAE. She has worked across a variety of sectors; including ecommerce, manufacturing, IT and consultancy.
She has extensive experience in setting up HR functions and in organisational restructuring. Roschelle has worked as an HR business partner to senior management where she developed HR strategies to effectively integrate HR processes and practices to the needs of the business.
Roschelle has worked with a leading online travel company as the head of HR where she handled due diligence, HR audit and acquisitions and played a key role in its expansion into multiple new geographies. Her focus has been in making HR a visible and influencing function and adding value to the businesses.
Roschelle holds a Master's degrees in HR and systems from Alliance Business Academy in India.