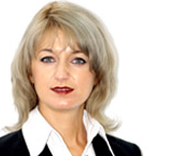 Dana Zeicu
Senior HR Consultant
Dana Zeicu has 15 years experience in Psychology and Human Resources. She has worked in large national and multinational organisations in Europe and Middle East, holding senior roles in various industries including both private and governmental sector, private integrated security services, HR consultancy, healthcare, army and air forces.
As a Psychologist, Dana brings with her experience in counselling, psychological assistance and therapeutic support, psychometrics and group dynamics and diagnose. She also had specialist and managerial roles in organizations with more than 10,000 employees where she conducted manpower analysis, developed HR policies, procedures and workflows, managed recruitment, performance management, training and internal communication functions, etc. Dana strongly believes that people are the biggest value in the world and that's why she combined in her professional life the psychology with HR.
Dana holds Bachelor Degree in Psychology, Master Degree in Psychoanalytical Psychotherapy and she is certified by the Council of the European Union on the recognition of professional qualification as Psychologist and Expert in Work and Organizational Psychology and Applied Psychology in National Security. She has multiple participations at national and international conferences and various articles published in military publications.